We help people tell their stories
Lavin+Stacey is a diverse design company that works in Interior Design, Sets and Props, Illustration, and Fine Art. We are visual problem solvers, who bring a broad vocabulary of skills and experience to our work.
Based in Seattle, with clients ranging from individuals to international corporations, we excel at finding the appropriate look for the job, and helping you to achieve it within your budget.
Our customers call on us to design interior spaces, to create sets and props for photo shoots, and to create art for public and private spaces.




John was the Production Designer of the new Megan Griffiths film, 'Lucky Them', which stars Toni Collette and Thomas Haden Church. 'Lucky Them' premiered at the Toronto International Film Festival in September.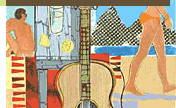 John Lavin's illustrations are made with a collage technique of cut paper and drawn line.

Lavin's handmade modernism has made his work popular with clients such as Starbucks Coffee Company, The Seattle Symphony, and the University of California, as well as many other commercial and editorial clients.

Using a variety of papers, combined with drawing and paint, Lavin creates a rich tapestry of textures and colors in his work.